Home > Lisbon Treaty looks certain to be rejected (video)
Lisbon Treaty looks certain to be rejected (video)
by Open-Publishing
- Friday 13 June 2008
Europe Referendum European Constitution referendum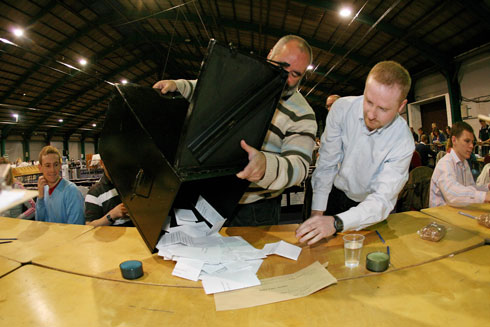 Ballot boxes are opened in the RDS in Dublin as counting begins in the Lisbon Treaty referendum today. Photograph: Nial Carson/PA
The Lisbon Treaty looks set to be rejected by the Irish people as counting of votes continues around the country this evening.
With only seven of 43 constituencies left to declare a result, the No vote is leading by 53.4 per cent to 46.6 per cent. All but six constituencies have rejected the treaty, with a national running total of 641,786 voting in favour of Lisbon and 743,179 votes against.
Tallies from early on in the count this morning showed the No campaign appeared to be winning in most constituencies across the State, with significant majorities emerging from rural and urban working class areas in particular.
Minister for Foreing Affairs Micheál Martin, who is also director of Fianna Fáil's referendum campaign, said there was a perceived lack of information on the treaty. "People were on the doorstep were saying 'I still don't know enough about this treaty'."
This was a "significant" factor, the Minister claimed. The Minister said he was not blaming the Referendum Commission but said there was a sense that the treaty "just didn't register" and "lacked a clear tangible".
In his own constituency, Cork South Central, the treaty was rejected by more than 55 per cent of the electorate there.
Minister for Community, Rural and Gaeltacht Affairs Éamon Ó Cuív conceded defeat this morning for the treaty in the constituency, Galway West, while Fine Gael leader Enda Kenny also conceded defeat for the treaty in Mayo early on in the count.
The founder of Libertas, Declan Ganley, who campaigned for a No vote, said: "The Irish people have rejected the Lisbon Treaty. "it is a great day for Irish democracy", he added.
"This is democracy in action . . . and Europe needs to listen to the voice of the people," Mr Ganley said. He added that the Taoiseach, Brian Cowen, "has a mandate to go back to Europe and do the best job possible".
Polling stations closed at 10pm last night after 15 hours of voting in the referendum, the result of which will determine the future development of the European Union and its institutions. Voting began at 7am, and stations in 43 constituencies were open until 10pm.
Turnout was reported at about 40 per cent by 9pm, up from 20 per cent in some constituencies by mid-afternoon. In general, turnout was reported to be higher in city areas than in rural areas.
By the time polls closed at 10pm last night, around 50 per cent of the three million people registered to vote were understood to have cast their ballots.
There is concern in other EU countries about the impact of the decision by Irish voters, and the French and German governments are expected to make a joint statement later today once the Irish result is known.
Ireland was the only country to hold a referendum on the Lisbon Treaty.