Home > Marseille Sways to a Maghreb Rhythm
Marseille Sways to a Maghreb Rhythm
by Open-Publishing
- Wednesday 12 August 2009
By SETH SHERWOOD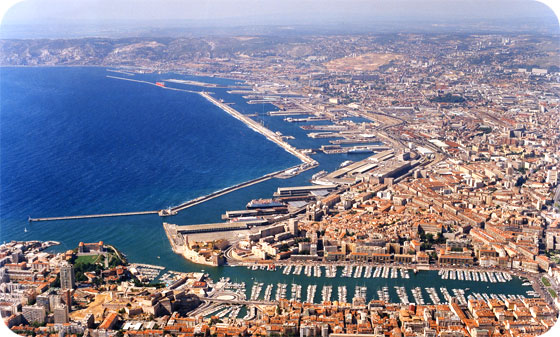 AS a warm Saturday night hung over the Mediterranean, the Algerian-French band Yazmen shuffled under the spotlights with its instruments — hand drum, flute, electric bass and a boxy, long-necked stringed instrument called a guembri — while a crowd filed into the hot confines of the windowless Tankono club.
Couples arrived with children while bespectacled record-store geeks and a bald guy in a dashiki made toasts with Kronenbourg beers. Close to the stage, a dozen or so French bohemian types in their 30s pressed together in their best thrift-store finery.
"We're going to start with some traditional gnawa, but a bit more modern," the lead singer, Nabil Acef, said in French. "Are you familiar with gnawa?"
Anywhere else, the question would very likely be met with pin-drop silence. But not in Marseille.
"O-o-o-o-u-u-u-i-i-i-i-i-i-i-i-i-i!" came the explosive reply, as the musicians, all smiles, began a rollicking, jazz-fusion take on gnawa, a centuries-old music heard throughout North and West Africa.
Because of Marseille's geographical proximity to North Africa and France's colonial history there, which ended only in the 1960s, Marseille may be more deeply linked to Morocco, Tunisia and Algeria than any non-African city. Some 120,000 to 150,000 people from those three countries — known collectively as the Maghreb — live in Marseille, a bustling and slightly raffish port city of around 800,000.
And so, a palpable North African wind seems to blow through this city's sun-baked hills, where the orange tile roofs of aging 19th- and 20th-century town houses rise and fall like the waves of the adjacent Mediterranean Sea.
Tea rooms, Moroccan restaurants, Tunisian pastry shops and hallal fast-food joints dot the wide boulevards and small passages. Hammams and hookah cafes echo with Arabic and Kabyle, the language of Algeria's Berbers.
"You can feel like you're somewhere in Algiers, or you can feel like you're somewhere in Casablanca," said Zéphora Nachite, an Algerian-born festival organizer, as she sipped mint tea at Fantasia, a cafe popular with the city's North African crowd.
"You hear raï in the streets," she said of Algerian pop music. "Couscous is practically the national dish of France, and especially Marseille."
To celebrate Marseille's deep connection with the people of the Maghreb and other ethnicities, Ms. Nachite in 2008 started the Fête de la Mediterranée, an outdoor festival of songs, crafts and food. Held again this past May, the festival is just one of the recent developments — bands, boutiques, hotels, spas — that are raising the cultural profile of North Africans in Marseille and helping to the city into a veritable Sahara on the sea.
Which is not to say that Marseille is without big-city problems. The unemployment rate is 50 percent above the national average, and the city is troubled by a lingering reputation for crime. As the French newsweekly Le Point observed in a 2007 feature about Marseille, "In the collective imagination of French people, the name is associated with the Mafia, truants and thieves."
Still, as the same article noted, France's second-largest city actually ranked seventh in crime that year. More tellingly, Marseille was spared the kind of violence that rocked some of Paris's immigrant-heavy suburbs in 2005.
For Nora Preziosi, who was born in Marseille to Algerian immigrants and is a senior aide to the mayor, the key to the city's harmony is in its integrated street life.
"It's not like Paris, where you have the banlieues to the north or south," said Ms. Preziosi, referring to the public housing districts in suburban Paris. Geographically segregated from central Paris, those generic and dilapidated minicities have historically absorbed many of Paris's poorest immigrants and their descendants.
"Here," Ms. Preziosi continued, "we have just one community, Marseille. Whether we're North African, Armenian, Jewish, whatever, we consider ourselves Marseillais first."
The city's unofficial anthem could easily be "Sous le Ciel de Marseille" ("Under the Sky of Marseille"), by a young Algerian-born pop star, Kenza Farah. Sung in both French and Arabic, the song is a tender homage to the city's bouillabaisse of cultures:
Marseille you are like a mother to me
You welcome me with open arms
Marseille, mix of colors
Consoles all who have suffered.
Any journey into Marseille's Maghreb side should — must — begin at the Marché de Noailles, by the Noailles metro stop. The daily fruit-and-vegetable market is the whirling epicenter of the city's most venerable and colorful North African neighborhood, which sits symbolically in the very heart of Marseille's downtown.
There on a Tuesday morning in late May, women in traditional robes and headscarves were snapping up oranges, melons and green beans from Morocco. "Yalla! Yalla!" — "Let's go! Let's go!" — one vendor ordered an assistant in Arabic, after he was slow in bagging some vegetables for a customer.
Afterward, shoppers peeled off down the Rue Longue des Capucins, where every free inch seemed to be plastered with concert posters promoting an upcoming festival of "Musique Souk" and a "Soirée Orientale Avec Chaibi et Malouf." A few blocks away, along the tiny Rue de l'Académie, women in caftans ambled into the Hammam Rafik, while men in fezzes and skullcaps removed their shoes and packed into an Islamic prayer room across the street.
At lunchtime, crowds converge on the Rue du Musée, home to one of Marseille's most celebrated restaurants, Le Fémina. Opened in 1912 by a young man from a rural Algeria town, it is now run by his great-great-grandson, Mustapha Kachetel.
"We do home cooking using recipes that have passed from father to son and mother to daughter," said Mr. Kachetel as a largely French lunch crowd began to file into the rustic stone-walled space. In the kitchen, women in matching striped shirts stirred steaming cauldrons and diced vegetables. "My sisters," he said with a smile.
The restaurant's reputation is built on its prowess with one simple dish: couscous made from barley semolina. In contrast to the yellow wheat semolina commonly found in Morocco and France, the barley variant has bigger and rougher granules, a darker color and earthier flavor.
The restaurant imports its barley semolina from Algeria, steams it to fluffiness, then tops it with a medley of slow-cooked meats: merguez sausages made from Charolais beef; brochettes of marbled lamb from Sisteron in Provence; roast chicken; and a breast bone of lamb that has been stewed in vegetable broth to make the thin layer of meat exceptionally tender.
With its venerable French clientele — which has included Gérard Depardieu and many French politicians — Le Fémina might be the city's most enduring cultural crossover. But it's getting plenty of company these days. Especially in the worlds of design and hospitality, young North African artists and entrepreneurs are leaving their mark on the city and updating Old World traditions for a modern European audience.
Consider Ryme Alaoui, whose grandfather was a mosaic-maker in Fez, the old Moroccan city famous for its artisans. Today, Ms. Alaoui, 36, runs Art et Sud, a showroom that sells mosaics made by artisans back in her ancestral city.
Side tables, dining tables, decorative wall panels and entire floors all glow with kaleidoscopic, intricate geometry. Any piece can be designed to order. None would look out of place in a London loft.
At Les Bains du Harem, the most classic of North African institutions — the hammam — has been transformed into a chic full-service spa that has drawn everyone from the French pop star Amel Bent (who has North African roots) to Sting.
On a May afternoon, a European-looking man in his 30s relaxed in a eucalyptus-scented steam room lined in earth-tone mosaics, after a lathery massage in jasmine soap and an exfoliation with African karité (or shea) butter and sea salt. Just outside, a French couple luxuriated on sultanic cushions and nibbled honey-pistachio pastries in the ornately sculptured relaxation room.
Sitting in the tea salon, the owner, Sandrine Aboukrat, who was born in Marseille, explained that the concept for Les Bains du Harem was inspired by girlhood outings with her Moroccan-Jewish grandmother. "Every Friday afternoon, she would come by our house, pick up me and my mom, and take us to the local hammam," Ms. Aboukrat said.
But perhaps no one in Marseille is doing more to combine the North African and the modern than Fatiha Ouichou. Born in Morocco and raised in Paris, Ms. Ouichou, a former marketing and branding executive, made her first splash in Marseille with Le Ryad. The nine-room boutique hotel, which she opened in central Marseille in 2005, imagines a Marrakesh-style guesthouse inside a classic French town house.
Last year, Ms. Ouichou took her cross-pollination of Moroccan and Western styles a step further with a boutique, Inspiration Ryad. An airy space with white walls, high ceilings and a vast picture window, this shop feels more like an art gallery. But the goods displayed on the long white shelves — ceramic vases shaped like conical tagine cookers, leather cellphone holders sporting the Islamic hand of Fatima symbol, minimalist-chic caftans with Arabesque swirls — suggest a shelter magazine redesign of a Moroccan bazaar.
"I'm trying to raise the image of Moroccan crafts, which most people associate with the low-quality things you find in the souks," Ms. Ouichou said.
As the third weekend in May rolled around, the two ends of the North African musical spectrum — one resolutely conventional, one energetically contemporary — flared to life in a pair of performances around Marseille. Taken together, they formed yet another testament to the diverse creativity that has emerged from the Marseille melting pot.
For the traditionalists, the weekend's marquee attraction was at the Espace Julien, a long music hall with a tiered floor, sophisticated lighting and large stage. One night, a well-heeled middle-age crowd — many French, many clearly with North African blood — filled the seats as the Orchestre Tarab took the stage in matching black outfits. Formed by Algerian immigrants in the late 1990s while a vicious civil war tore apart their native country, the small orchestra broke into the exotic scales and polyrhythms of Old World Arabo-Andalusian music, one of Islam's most revered genres.
Soon, they were joined by a special guest. Like the others on stage, Alain Chekroun is a native Algerian who relocated to southern France, but one telling article of clothing set him apart: a yarmulke. Mr. Chekroun is an Algerian Jew. When the spotlight fell on him at last, Mr. Chekroun closed his eyes and sang liturgical songs drawn from the Torah and his Jewish faith in a high, clear voice that was by turns mournful and joyous, as his Muslim countrymen provided the soundtrack.
FOR the younger generation, the top action unfolded back at Tankono, where Yazmen continued to blaze through a set melding the soulful vocal harmonies of gnawa through a succession of radio-friendly Western musical styles. Cosmic funk jam sessions gave way to desert blues before merging into jazzy bossa nova-like passages. Voices dropped in and out, intersecting across the melodies.
Soon, the music shifted again to a breakneck belly-dance rhythm. Girls shimmied and twirled. Guys raised their Kronenbourgs and clapped to the beat.
When the show finally finished, the musicians hopped off stage to join their fans outside the club in the Rue des Trois Mages. Earnest and thoughtful, Malik Ziad, the group's curly-haired guitar and guembri virtuoso, explained that Yazmen's distinctive music derives partly from its members' different nationalities: four of them were born in Algeria; one is native French. All met in the interethnic swirl of Marseille.
And while Mr. Ziad confessed to missing his hometown of Algiers — another hot and lively Mediterranean port city filled with old French buildings and squares — he said that Marseille has proved to be a welcoming substitute.
"I see my homeland here," he said, as the last of the crowd filed outside, the warm night air filtering into the windowless room. "The same architecture, the same climate, the same sun, even the same mindset."
"You know, we have 48 official provinces back in Algeria," he added. "Around Marseille, everyone likes to say that Marseille is the 49th. And it's true."
Source : The New York Times