Home > — White House insiders report / Pt 2
Discriminations-Minorit. Extreme right USA South/Latin America Wayne Madsen
http://www.waynemadsenreport.com/ March 23, 2006 — White House insiders report that an influential group of extreme right-wing gay Latino power brokers has been given almost total control over U.S. foreign and business policy decisions affecting Latin America. A number of members of the Young Hispanic Republican Association report that they have been sexually preyed upon by members of the influential Latino power brokers after accepting administration appointments, including positions on the White House staff.
The gay Latino group, led by an individual nicknamed "El Padrino" (the godfather) and which has close ties, including gay relationships, with top GOP officials in the Republican National Committee, Small Business Administration, the Department of State, State of Texas, and Executive Office of the President, has been tasked with ensuring that Venezuelan President Hugo Chavez does not successfully bid on the sale of Univision, the largest Spanish language TV network in North America. Senior White House officials have provided hundreds of millions of dollars, through CIA and State Department conduits, to the Latino group to ensure that Chavez does not gain control of Univision.
The group has also prevailed upon the government of Panama and particularly senior gay members of the Panamanian government, to ensure that President Martin Torrijos backs out of a regional energy treaty signed between Panama, Venezuela, and Colombia. The deal would see Panama's transisthmian Petroterminales de Panama (PTP) pipeline between Puerto Armuelles on the Pacific to Chiriqui Grande on the Caribbean reverse its flow from east to west to permit the export of Venezuelan oil to China. However, since the Panamanian government only owns a 30 percent stake in the pipeline, the GOP Latino power brokers have applied pressure on a New York-based family-owned firm that owns 60 percent of the pipeline to sink the deal. The law firm that represents the interests of the New York family is reportedly owned by the family of the Panamanian ambassador to the United States and Panama's ambassador to the United Nations. Ten percent of the pipeline is owned by a shadowy Swiss-based firm, the shares of which are held by anonymous parties, that is reportedly connected to the CIA and senior members of the Panamanian government.
White House sources: Bush Latin American policy in the hands of gay Latino GOP powerbrokers
The other part of the Venezuelan-Colombian-Panamanian deal that is being targeted by the GOP Latino group for cancellation is a natural gas pipeline from Colombia through Panama and Central America to southern Mexico.
Katin Vasquez, Panama's Economy and Finance Minister and a former Panama Canal Commissioner, is also being lobbied heavily by GOP-connected Wachovia to ensure the bank gets the contract to handle the funding for the $7 billion Panama Canal Expansion Project. The canal expansion is tied to the fact that with the increased use of supertankers, which cannot currently transit the canal, the canal must be quickly expanded to handle what are known as "Post-Panamax" vessels. "Panamax" is standard code for the maximum size vessel that can currently transit the canal. With the thirty-day advance payment requirement, Panama could easily issue bonds to finance the expansion. However, the gay Latino group tied to the Bush administration is using its influence with senior Panamanian government officials, sweetened with cash payments, to ensure that Wachovia gets the financing and Halliburton/Kellogg, Brown & Root gets the lion's share of construction contracts for the canal's expansion.
Vasquez has reportedly been flown to North Carolina in Wachovia's private corporate jet for golf outings. However, observers point out that Panama does not require Wachovia's involvement in the canal expansion project since the canal is a virtual cash cow. Ships are required to pay thirty days in advance prior to transiting the canal.
The gay Latino group reportedly has particularly close ties to Secretary of State Condoleezza Rice and her public diplomacy assistant Karen Hughes. Interestingly, Hughes is the daughter of Maj. Gen. Harold Parfitt, the last U.S. Governor of the Panama Canal Zone.
The GOP group has also been tasked by the White House to work on reversing the leftist tide that is sweeping Latin America. Currently, the Bush administration can only count on three Latin American nations to fully carry out U.S. policy: El Salvador, Panama, and Colombia. With pro-Chavez leftist victories likely in Mexico, Nicaragua, Ecuador, and Peru, the GOP Latino powerbrokers are expected to use their influence to generate support for pro-U.S. right-wing political leaders and parties.
---
March 23, 2006 — Retired General Wesley Clark has once again enmeshed himself in the military-industrial complex. Yesterday, Viaspace, a firm that bills itself as transforming "proven space and defense technologies from NASA and the Department of Defense into hardware and software solutions" for homeland security and sensor technology, named Clark as a member of its board of directors. Clark said, "Viaspace is leveraging previous NASA and DOD investment at the Jet Propulsion Laboratory to develop new generations of energy and security products." After he announced his candidacy for president in 2004, Clark resigned from the board of Arkansas-based Acxiom, a data mining firm. While working for Acxiom, Clark personally lobbied Vice President Dick Cheney, the CIA, Justice Department, and Transportation Department to sell the Bush administration on an Acxiom system that would serve as the basis for the "No Fly List" and other terrorist watch databases. A 2005 privacy study undertaken of a sample of Acxiom personal data reports found that their reports were 100 percent inaccurate — with even the genders of data subjects being erroneous.
Wesley Clark: Continuing to cash in with the military-industrial complex
---
March 22, 2006 — According to informed sources in Washington, former Panamanian President Manuel Noriega, considered a legal "prisoner of war" by the United States, will be released from a Federal prison in Miami in May. Noriega is presently serving a 98-year sentence for homicide, drug trafficking, and corruption. He has also been sentenced in absentia in Panama to a 60-year sentence. In 2004, the Federal judge who sentenced Noriega recommended that due to his advancing age and conversion to Baptist, he be paroled. However, informed sources report that negotiations are taking place between Panama, the United States, and France to have Noriega extradited to face criminal charges in France. Panama reportedly has agreed to allow the United States to extradite Noriega to France. The primary supporters of Noriega's continued imprisonment are President Martin Torrijos, the son of Panama's pre-Noriega dictator Omar Torrijos; First Vice President Samuel Lewis Navarro; and Panamanian ambassador to the U.S. Federico A. Humbert Arias. All three are reportedly close to right-wing GOP circles in the Bush administration, including the Cuban-American rightists in the GOP, as well as Bush-connected businesses, including Halliburton and Wachovia Bank.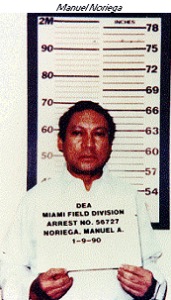 Noriega: If he is exiled to to Venezuela, he will spill the beans on the Bush Crime Family. If he is extradited to France, he will get the "Milosevic treatment."
The word is that Panama and the United States would prefer to have France give Noriega, who is now 72, a ten-year sentence with the hope that he will die in a French prison thus extricating the Bush administration from having the ex-president, jailed by Bush's father, from dying on U.S. soil — a potential embarrassment to the U.S. in a Latin America that is now awash in anti-American fervor. In 2004, Noriega suffered a minor stroke.
However, there are also those in Panama and Latin America who are pressing for Noriega to be allowed to go into exile in Venezuela, where President Hugo Chavez wants to permit the former Panamanian President and one-time close ally of the United States and CIA to freely reveal everything he knows about the involvement of President George H. W. Bush and leading Reagan and Bush I officials in drug and weapons trafficking and money laundering involving the Bank of Credit and Commerce International (BCCI) and other corporate entities.
---
March 22, 2006 -
Contact for Commentary: Professor William Weaver, wweaver@nswbc.org
mailto:wweaver@nswbc.org, (915.525.0483(M); 505.216.9853(H))
Federal Judge in Libby Trial Deliberately Hides Financial Background
Possible Violation of Federal Law Charged by FBI Whistleblower
Today, Sibel Edmonds, Former FBI Language Specialist and a whistleblower, filed a motion in D.C. Federal Court asking for recusal of Judge Reggie Walton from her pending case filed under the Federal Tort Claim Act. Walton is also currently hearing the perjury case involving I. Lewis "Scooter" Libby, the former chief of staff to Vice President Dick Cheney, who is suspected of leaking the name of former CIA undercover operative Valerie Plame Wilson to the media.
Edmonds motion for recusal is based on Judge Walton's pursuit of secrecy in his required yearly financial disclosure by redacting his entire disclosure statement, his deference to secrecy in his rulings on Edmonds' previous claims where he was the presiding judge, and the unusual operations of the case assignment system concerning Edmonds' cases. For the recusal motion filed by Edmonds Click Here
http://justacitizen.com/FTC/Plainti...The redaction of Judge Reggie Walton's entire Financial Disclosure Statement appears to be in violation of the Ethics in Government Act. The Ethics in Government Act requires that Federal Judges file a yearly financial disclosure statement with the U.S. Judicial Conference as a check on conflicts of interest. A disclosure may be redacted only to the extent necessary to protect the individual who filed the report and for as long as the danger to such individual exists. The Financial Disclosure Statement filed by Judge Reggie Walton in 2003 redacts all information except for the date of the filing and Walton's name. This is highly unusual. According to a recent GAO Report, less than one percent of judges on average request complete redaction of their financial disclosure each year. For Judge Reggie Walton's 2003 Financial Disclosure, Click Here.http://www.judicialwatch.org/judges...For the request letter sent to the U.S. Judicial Conference on March 6, 2006, asking for the release of Judge Walton's unredacted financial disclosure statement Click Here.
http://justacitizen.com/FTC/Lettert...In July 2004, Judge Reggie Walton disposed of Edmonds' First Amendment case on the basis of the government's assertion of State Secrets Privilege. On the same day as the decision, Judge Walton quashed a subpoena for Edmonds' deposition by attorneys representing over 1,000 family members who lost love ones during the terrorist attacks on 9/11. In limiting the deposition in the case, Burnett et al. v. Al Baraka Investment & Development Corp., Judge Walton prevented the 9/11 attorneys from asking a majority of the proposed questions related to the attacks. These included even the most mundane questions, such as:
• When & where were you born?
• Where did you go to school?
• What languages do you speak?
• What did you focus your studies on in school?
• In what capacity have you been employed by the United States Government?
The convoluted route the Edmonds' case has taken to Judge Reggie Walton's courtroom appears suspicious and creates the perception that the system has been manipulated. Edmonds' First Amendment case, filed in July 2002, was assigned to Judge James Robertson who recently resigned from the FISA Court in protest of warrantless NSA eavesdropping. In February 2003, Edmonds' case was removed from Judge Robertson and reassigned to Judge Walton with no explanation provided. Edmonds filed a motion to request the case to be transferred from Judge Walton, and be assigned to Judge Ellen Huvelle who had been presiding over Edmonds' related FOIA case since July 2002. The court granted Edmonds' request and transferred her case to Judge Huvelle. However, two days later, Edmonds' case was removed from Judge Huvelle and reassigned to Judge Walton with no further information or reason provided. On July 6, 2004, Judge Walton granted the government's motion to dismiss based on the assertion of the State Secrets Privilege.
In March 2005, Edmonds filed in D.C. Federal Court a separate claim under the Federal Tort Claims Act, and the case was randomly assigned to Judge James Robertson. However, five days later, Edmonds' claim was removed from Judge Robertson and reassigned to Judge Reggie Walton. This set of facts reveals apparent violations of local rules governing the assignment of cases.
Sibel Edmonds
http://www.aclu.org/safefree/genera...worked as a language specialist for the FBI's Washington Field Office. During her work with the bureau, she discovered and reported serious acts of security breaches, cover-ups, and intentional blocking of intelligence that had national security implications. After she reported these acts to FBI management, she was retaliated against by the FBI and ultimately fired in March 2002. Since that time, court proceedings on her issues have been blocked by the assertion of "State Secret Privilege" and the Congress of the United States has been gagged and prevented from any discussion of her case through retroactive re-classification by the Department of Justice.
In January 2005, the Justice Department's Inspector General vindicated Edmonds' claims when it declared that many of her charges "were supported by other witnesses and documents, and that her allegations were, in fact, the most significant factor in the FBI's decision to terminate her services."
Judge Reggie Walton was nominated to his position as a United States District Court of Columbia Judge in October 2001 by President George W. Bush. He served as President George H. W. Bush's Associate Director of the Office of National Drug Control Policy in the Executive Office of the President and as President Bush's Senior White House advisor for Crime.
---
March 22, 2006 — Asia Times
http://atimes.com/atimes/Middle_Eas...article on the new Iraq Study Group — a group rife with defense contractors, Carlyle Group types, and other Washington insiders. Get ready for a whitewash of Dubya's Iraq war. The whitewashers are all members of this "study group."
---
March 21, 2006 — Political observers in Washington are wondering why, a day after taking some unscreened questions from an audience in Cleveland and appearing unprepared to answer them, President Bush held an unscheduled press conference at the White House — a rarity with this administration. White House handlers even allowed veteran White House correspondent Helen Thomas to ask Bush a question, something that has been carefully avoided in past Bush news conferences.
THOMAS: I'd like to ask you, Mr. President — your decision to invade Iraq has caused the deaths of thousands of Americans and Iraqis, wounds of Americans and Iraqis for a lifetime.
Every reason given, publicly at least, has turned out not to be true. My question is: Why did you really want to go to war? From the moment you stepped into the White House, your Cabinet officers, former Cabinet officers, intelligence people and so forth — but what's your real reason? You have said it wasn't oil, the quest for oil. It hasn't been Israel or anything else. What was it?
BUSH: I think your premise, in all due respect to your question and to you as a lifelong journalist — that I didn't want war. To assume I wanted war is just flat wrong, Helen, in all due respect.
QUESTION: And... [Thomas' microphone was then cut off, not permitting the normal follow-up question].
Bush, both in Cleveland and at the White House press conference, was confused, flustered, and typically not well-spoken. These self-inflicted poor public relations demonstrations come at a time when Bush's poll numbers are plummeting. Some informed sources speculate that Bush's top handler, Karl Rove, has other things to worry about these days than ensuring Bush avoids tough questions and keeps to his talking points. There are strong indications that Special Prosecutor Patrick Fitzgerald is about to drop another major indictment in the CIA leak case.
Bush being pushed out to the public without special handling: Is Rove pre-occupied with other matters?
---
March 20/21, 2006 — Its not often that a film can affect the body politic of a nation. But that is the effect of the movie released on St. Patrick's Day, V for Vendetta. Set in a near future England ruled by a Conservative Party government-turned-fascist, the hero, a horribly burned escaped political prisoner named "V" who dons a Guy Fawkes mask, cape, hat, and has an array of fancy weapons (sort of a Zorro, Phantom of the Opera, and Batman clone), blows up London's Old Bailey judicial building and the Houses of Parliament as an act of vengeance for the genocide and political repression carried out by the fascist government. As a historical note, Guy Fawkes attempted to blow up Parliament in 1605 with gunpowder in a plot involving Catholics and Spain. He was caught and hanged but soon became a folk hero to England's working class and Guy Fawkes Day is celebrated with fireworks every November 5. [Note to royalist Anglophiles: yes, I understand that many Britons burn Guy Fawkes in effigy on Nov, 5, but many Britons also celebrate his almost feat with fireworks. I've been to Britain too many times during the festival and know what Fawkes means to those who despise the pederasts and imbeciles who make up the British Royal Family and the House of Lords/House of Commons. It's too bad Fawkes did not succeed in blowing the monarchy and Parliament to hell and back in 1605 . . . there would have never been a Puritan/Pilgrim invasion of North America with all of the concomitant religious idiocy and paranoia we experience today — which means that George W. Bush would likely presently be a bestial sheepherder on some Shropshire farm].
What has our own fascist right wing media hopping mad are the references to the Bush regime and its wars. One political dissident in the movie has a secret room displaying banned art and posters. One of the posters is from the anti- Iraq war London protests — it displays a U.S. flag and U.K. flag inter-connected by a swastika with the words "Coalition of the Willing." There are references to a civil war- and virus-ravaged "former United States" that has engaged not only in the actual war in Iraq but wars in Syria and Kurdistan. There are comments about America's rendition and there are plenty of black hoods thrown on the heads of political detainees and "yellow" terrorist alerts. Not only has TV come under total fascist control, but Britain's Royal Mail has been privatized and turned into the "British Freight Co." There is also a reference to a genocide carried out by the English fascists in Ireland and it may not have been totally coincidental that a film focusing on an English fascist government's repression of freedom fighters was released on St. Patrick's Day.
The Conservative Party reaches ultimate power by unleashing a virus on Britain killing thousands. It turns out that leading members of the Conservative Party own stock in the pharmaceutical firms that have the vaccine drugs and enrich themselves in the process. Several top officials of the Bush regime have interests in various pharmaceutical firms involved with anthrax, smallpox, and avian flu vaccines —including Donald Rumsfeld, the former CEO of G.D. Searle [sold to Monsanto] — and V for Vendetta's references to avian flu as a government attempt to hype the media and bamboozle the public is another clear link between the film's anti-fascist message and the Bush/Tony Blair governments.
Britain's near future features a Fox/Sky News type propaganda news network called "British Television Network." Its major racist, right-wing blatherer also happens to enjoy romping around in a specially-built shower in his office (hmmm... I wonder who that might really be?). There is also the bald, pudgy, and thoroughly revolting top assistant and chief dirty tricks operative to the fascist High Chancellor (hmmm...again, I wonder who that could be?). And then there is the English Bishop who happens to like little girls (well, that could be any of our so-called "moral majority" religious leaders, except in some cases, little boys could be substituted for little girls).
In the end, all these fiends are eliminated, one by one, by our man "V." And this is what probably, more than anything else, has the right-wing defecating in their pants. They know that one day they will face a reckoning for the damage they've done to the United States, to Iraq, to the United Nations process and international law, and to peoples and nations around the world. And that reckoning will be far from a slap on the wrists and the right-wing is beginning to wake up to that fact. Some on the right now understand they overplayed their hand and are trying to change their spots.
The left has always been tolerant to a point. But pushed against the wall, the progressives of the world have always discovered how to treat their vanquished enemies — just look at what happened to Hans Frank, Wilhelm Frick, Julius Streicher, Ernst Kaltenbrunner, Pierre Laval, Vidkun Quisling, and other fascist leaders of the 20th century.
V has one bit of advice that is already echoing around the Internet: "People shouldn't be afraid of their government, government should be afraid of their people."
V
It looks like there will be a run on Guy Fawkes masks and maybe quite a few red spray painted "Vs" on various public adverts and walls. And why not? Let neo-con governments and their operatives and lickspittles everywhere know that with a blossoming of red "Vs" that we the people do understand and neo-con governments and their right-wing supporters should be very afraid of the people.
Already, the right-wing, including blogs like Town Hall, Men's News Daily, and WorldNetDaily, are attacking the film, calling it, among other things, pro-terrorist, pro-homosexual, neo-Marxist, anti-Christian, and left-wing pro-Islamo-fascist (by the way, co-star Natalie Portman is Israeli born). Someone named Ted Baehr, writing for WorldNetDaily, called Britain's Parliament, blown up by V in the movie, "Western Civilization's most enduring symbols of democracy and republican government." That's funny, last time this editor went to Britain, I distinctly remember the country being a monarchy. But history is not a strong suit among the right-wing. Their hero, George W. Bush, can't even read a history book although he's probably listened to the book-on-tape version of Mein Kampf.
The right-wing has plenty to be worried about with the movie V for Vendetta. They will first see the push back in the November elections (and woe be it to them if they once again engage in election fraud). And upon electoral victory will inevitably come the indictments, trials, impeachments, imprisonments, electoral recalls, and, if need be, deportations, or as they called them during the days of Guy Fawkes, banishment.