Home > Italian aid worker killed in Israel
Edito International Italy European Left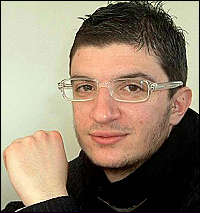 Rome, August 11 - A 24-year-old Italian aid worker was stabbed to death in Jerusalem on Thursday evening.
Israeli police described the murder of Angelo Frammartino as a politically motivated "act of terrorism" .
Police detained five young Palestinians during the night, but later released them without charge .
Frammartino, a law student from the town of Monterotondo near Rome, was working as a volunteer at a summer camp for Palestinian children run by Italian trade union CGIL .
He was stabbed twice in the back and once in the throat at about 8pm during an evening out in the Israeli capital .
People in his home town described him as a polite, cheerful, conscientious young man.
Frammartino was also the director of the Monterotondo youth section of the Communist Refoundation Party (PRC) and highly active in anti-war and Third World development campaigns .
"I am deeply pained by the news that has struck your most loved one and I want to express my profound condolences for the loss of your son, who died tragically while he was working on a worthy humanitarian mission," wrote Foreign Minister and Deputy Premier Massimo D'Alema in a message to Frammartino's parents .
House Speaker Fausto Bertinotti, the former head of the PRC, also wrote a letter of condolence to Frammartino's family, in which he stated that: "Angelo lost his life while he fought for the cause of peace, dialogue, cooperation and non-violence" .
The president of the Lazio regional government, Piero Marrazzo, said that a "messenger of peace" had been killed .
"In a world with hate running through it, a voice that firmly believed in dialogue and solidarity has been silenced," Marrazzo added .
The town of Monterotondo said the day of Frammartino's funeral will be a day of civic mourning for its "hero of peace" .
PRC Senate Whip Giovanni Russo Spena said the dead aid worker was "one of us, a pacifist, a lad who worked in the world of development cooperation to build bridges between peoples" .
Russo Spena said it was a "tragic paradox of the global war" that a Palestinian, "a child of the people he loved most", killed Frammartino .
The Monterotondo PRC youth section released an extract of Frammartino's last e-mail to them as a tribute .
"It is necessary to learn to love from scratch, to love again every day," Frammartino wrote in the message, quoting a fictional Italian radio character .
"He was full of enthusiasm and humour, a character trait I'll never forget," said Massimiliano Spinnato, a local PRC chief who knew the 24-year-old .
"Angelo had a passion for politics, but not the sort that makes headlines in the newspapers every day, the form of politics that is with the people and those who are suffering .
"He wanted to go to the Middle East to see what was really happening there. His main desire was to see peace" .
Michele de Palma, the national leader of the PRC youth section, said Frammartino viewed war and terrorism as threats to humanity .
De Palma also recalled some lines from an article Frammartino wrote in a local daily .
"We want to use his own words to talk about him: Make love with non-violence to give birth to peace from the womb of society'," de Palma said .
Frammartino flew out to Jerusalem on August 1 and was due to return home Saturday .
http://ansa.it/main/notizie/awnplus/english/news/2006-08-11_1114170.html