Home > TENS OF THOUSANDS DEMONSTRATE IN MADRID FOR THE WESTERN SAHARA
TENS OF THOUSANDS DEMONSTRATE IN MADRID FOR THE WESTERN SAHARA
by Open-Publishing
- Monday 15 November 2010
Demos-Actions Police - Repression Europe Africa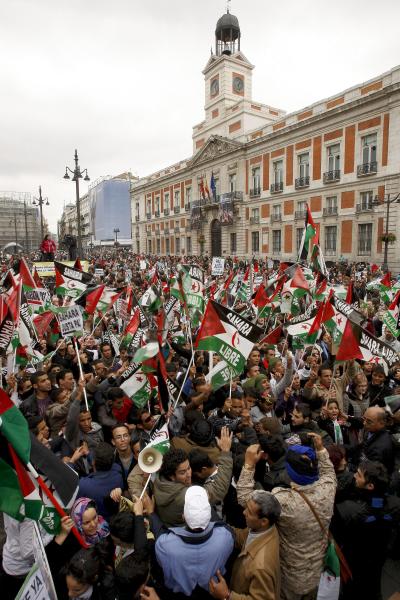 Tens of thousands (100,000 according to the organizers, 30,000 according to the police) demonstrate last saturday in Madrid supporting the Sahrawi people and against the Moroccan occupation.
Representatives of the two main Spanish labor unions (UGT & CCOO), from national political parties (PP, IU, UPD) and many artists joined the act.
With shouts like "Zapatero traitor", "Morocco guilty, Spain responsible", "If this didnt get arranged, war, war, war", "Morocco kills, Spain sponsor it", the crowd go from Atocha street to Sol square. There was a big presence of the Sahrawi diaspora, with the younger appealing the return to war. The speeches from Spanish & Sahrawi personalities denounced the inaction and hipocrisy of the Spanish government, and the repression done by Morocco in the Occupied Territories of the Western Sahara.
When the demonstration had officially finished, hundreds went to the central headquarters of the PSOE, the governing party, in Ferraz street, to denounce the attitude of the socialist government.