Home > Israeli peace activist Juliano Mer Khamis shot dead in Jenin
Israeli peace activist Juliano Mer Khamis shot dead in Jenin
by Open-Publishing
- Monday 4 April 2011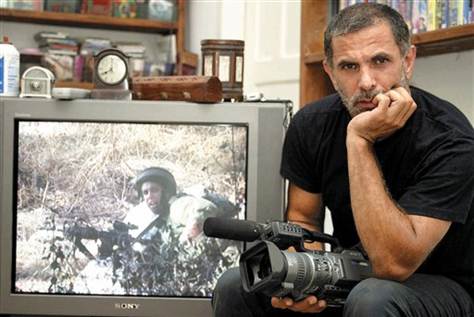 Witnesses say actor – who ran a drama project in a Palestinian refugee camp – was shot five times by masked men
An Israeli actor and peace activist who ran a drama project in a Palestinian refugee camp has been shot dead by masked men, metres from the theatre he founded.
Juliano Mer Khamis, 52, had received threats for his work in Jenin in the northern West Bank but continued to divide his time between Jenin and Haifa in the north of Israel. Witnesses said he was shot five times.
Mer Khamis appeared in a number of Israeli films after his first film role in the 1984 production of the John Le Carre novel The Little Drummer Girl, about Mossad's hunt for a PLO bomber.
He was born to a Jewish mother and an Arab Christian father. His mother, Arna, was renowned for setting up a theatre group in Jenin during the first Intifada which started in 1987. Mer Khamis directed the film Arna's Children, which celebrated her work, which he continued after her death in 1994. His wife, Jenny, a Finn, is pregnant with twins. She heard of his death from Israeli radio.
Mer Khamis's body was transported to an Israeli checkpoint, from where it was taken to Tel Aviv for a postmortem examination.
While his work was widely appreciated by Palestinians, his bringing together of young men and women angered conservative Muslim elements in Jenin. In addition to threats, fire bombs were thrown at the theatre. However the project was supported by local militants. Zakaria Zubeidi, a leader of the al Aqsa Martyrs Brigade, frequented the theatre as a child.
Kadura Musa, governor of Jenin, said: "He was a Palestinian citizen of Israeli origin. An actor and an artist but most of all a true human being. We don't know why this happened, but all the people of the camp condemn the death of this son of ours whose mother also did so much for the people of Jenin."
Alaa Eddin Saadi lives next to the theatre, and said that Mer Khamis was shot while in a car also carrying his one-year old son and his nanny, who was wounded in the hand. "I don't think he was killed because he was Jewish. Some people were angry with the liberal values he was promoting at the theatre, but to me he was a very nice guy who worked hard for the people here."
http://www.guardian.co.uk/world/2011/apr/04/israeli-peace-activist-shot-dead