Home > ONE MILLION WALK OUT BRITAIN'S BIGGEST DAY OF ACTION SINCE 1926 GENERAL STRIKE
ONE MILLION WALK OUT BRITAIN'S BIGGEST DAY OF ACTION SINCE 1926 GENERAL STRIKE
by Open-Publishing
- Wednesday 29 March 2006
Edito Trade unions Demos-Actions Public services Retirements - Pensions UK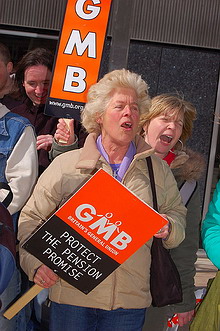 Strike protests in Paris and London
By Philip Johnston
It was the best of strikes and it was the worst of strikes.
Across Britain and France millions of public sector workers stopped work, in the former to protest about pension reforms and in the latter to block new youth employment contracts.
But whereas in Britain the day was marked by nothing more revolutionary than picket lines and rallies, in France it ended with clashes on the streets. In Paris, where 700,000 marched, police used tear gas against several hundred youths who threw bottles and petrol bombs.
The protest, which threatens to bring down the government of Dominique de Villepin, forced the Eiffel Tower to close and caused delays for commuters. A third of flights were cancelled, 70 per cent of public transport was disrupted and national newspapers failed to appear.
In London, the Tower of London closed and throughout the country schools, libraries, courts and even cemeteries were shut. In Liverpool and Newcastle, motorists faced travel chaos with the Mersey and Tyne tunnels closed and the Tyneside Metro suspended. The Glasgow underground was also shut and the Leeds-Bradford airport runway closed.
Unions said the stoppage was the biggest since the General Strike of 1926. But while support was strong in the North, Wales and Scotland, local government leaders said it was weak elsewhere.
In Britain there were few outward signs of union anger, with no reports of trouble. But as night fell in Paris, the smell of tear gas was in the air.