Home > SUPPORT WIKILEAKS: STOP ASSANGE EXTRADITION
SUPPORT WIKILEAKS: STOP ASSANGE EXTRADITION
by Open-Publishing
- Friday 10 December 2010
Internet Demos-Actions Justice UK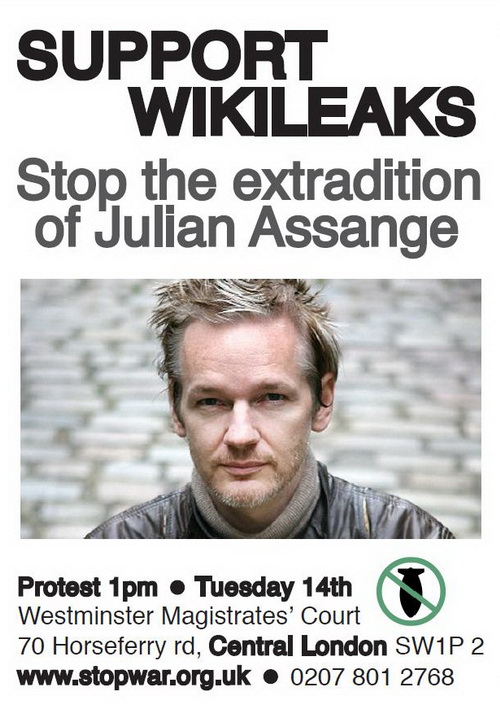 No wonder Wikileaks is under concerted attack — undoubtedly
orchestrated by the US government. The aim is to silence the
whistle blowing website, which every day reveals the secrecy and
lies used to justify war, torture and corruption.
There is nothing warmongering politicians fear more than the
exposure of the real reasons for the mass slaughter and
destruction that they carry out in our name.
Over the past two years Wikileaks has proved itself repeatedly to
be a true servant of democracy and an enemy of liars and
hypocrites.
The disgraceful refusal to grant Julian Assange bail, while he
fights extradition to Sweden, is all of a piece with the attack
on Wikipedia.
The suspicion must be that the Swedish government — deeply
incriminated in its support for George Bush's "war on terror" —
has hatched a plan with the US government to whisk Assange to
America, where politicians and right-wing commentators are
calling for him to be jailed for decades or executed.
Julian Assange next appears in court on Tuesday 14 December and
Stop the War has called a protest at 1.00 pm outside the
Westminster Magistrates Court. Details and a link for a flyer
publicising the protest are below. Please spread the word as
widely as possible and encourage everyone you can to join the
protest.
We have also initiated an open letter (LINK BELOW) of support
for Wikileaks and Julian Assange, signed by among others, John
Pilger, former UK ambassador Craig Murray, actors Miriam
Margolyes and Roger Lloyd-Pack, Salma Yaqoob, writers Iain Banks
and A L Kennedy, artists David Gentlemen and Katharine Hamnett,
and comedians Alexei Sayle and Mark Thomas.
We are encouraging all local Stop the War groups around the
country to organise street stalls this weekend to collect
signatures for the SUPPORT WIKIPEDIA petition.
STOP THE EXTRADITION OF JULIAN ASSANGE
PROTEST IN SUPPORT OF WIKIPEDIA
TUESDAY 14 DECEMBER, 1.00PM
WESTMINSTER MAGISTRATES COURT
70 HORSEFERRY ROAD, LONDON SW1 P2
DOWNLOAD FLYER TO PUBLICISE PROTEST HERE